We're very excited about the new clients we get to work with (and the not-so-new ones too, of course), and thankful to the people who have had success using our music and working with our talented crew of... talent!  So thanks for keeping up to date on "what's happenin'" at BME.  You can click the links to jump down and check out:
New Music Client:  CALA RECORDS: international classical record label, with top name orchestras and musicians covering the whole gamut of the classics...
New Worldwide Alliance:  FINTAGE HOUSE: a top administration and production services company in Europe and around the world, working together with BME on worldwide publishing and creative opportunities with major film and television producers...
What's Happenin' - Quick Hits:  A few varied tidbits of song placements in film and television, some artist touring news, and a little friendly competition...
---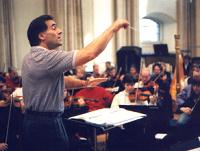 Cala Records' Geoffrey Simon, testing out his new baton for the orchestra....  practice makes perfect!
Cala Records conducts BME into the Classics...
Cala Records
, one of the top independent classical record companies in the world, has signed with BME to promote Cala's complete catalogue of recordings and arrangements for Film, Television and Advertising projects.  U.K. based Cala is owned by world-renowned conductor Geoffrey Simon (London Symphony, Royal Philharmonic, Israel Symphony, Moscow Symphony, Atlanta Symphony, others...), and spearheaded in the United States by Jeremy Swerling (Sacramento Symphony, Danville Symphony).  The label's vast catalogue includes complete classic works such as
Dvorak's "New World Symphony,"Beethoven's "Symphony No. 5
,"
Ravel's "Bolero,"
Schubert's "Unfinished Symphony"
and
Rossini's "William Tell Overture,"
as well as contemporary standards including
Gershwin's "Rhapsody in Blue"
and
Henry Mancini's "The Pink Panther."
Ranging from full orchestra performances (New York Philharmonic, Royal Philharmonic, London Symphony, Leopold Stokowski series) to small brass and string ensembles (NY Legends, London Sound, Royal Air Force), Cala's musical selections include the best known Classics, contemporary works, Christmas and World music pieces, and much more....  enough to fill the wide range of emotional palettes necessary for your film and television productions!
Preview the music selections on the
Cala Records Web Search
feature, or contact
Mason Cooper
(818-470-1018) with any ideas or needs you'd like to discuss.  Whether it's licensing a specific piece of music, or perhaps using the vast catalogue to build a "score" for your project  --  just call on Cala classics!!
---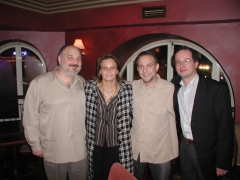 Joining forces for a creative and administrative alliance, a nice French dinner in Cannes France during Midem 2004 just seemed the thing to do!  Supporting each other after the wining and dining are (l-r) BME President Alan Brewer, Fintage's Head of Talent Suzanne Plesman, BME VP Mason Cooper, Fintage's Head of Music Ernst Jacob Bakker.
BME and Fintage bridge the global worlds of music & film
BME and Fintage House have joined forces to form a unique creative alliance and worldwide administration arrangement.
Based in the Netherlands, with offices and managers around the globe, Fintage House / Fintage Music is a leading worldwide administration company specializing in collections for rights holders in the music, film and television industries.  In addition to overseeing music publishing administration (including the BME catalogues), Fintage collects artist royalties (as applicable throughout various territories) and royalty/back-end fees for screenplay writers, directors and production companies.  BME will work to bring artists and catalogues to the attention of Fintage to satisfy their collection needs (
contact BME
for more administration information).
With a history of banking and escrow accounting for some of Europe's largest film companies (and a reputation of never losing a dime for any client), Fintage's ties to the worldwide film business synergize perfectly with BME's creative approach to the music industry, which includes utilizing BME's catalogues, songwriter/composer and artist/producer clients, and BME's experience and expertise in music supervision and consulting.

"This is just one more example of how BME strives to be unique in the entertainment industry it serves," states BME prez Alan Brewer.  "We now can offer a worldwide reach to our music clients, a more comprehensive music component to Fintage and its production clients, and worldwide relationships that we can bring to our friends in the music supervision, film production and artist/label worlds."  Give us a call to see how this alliance can benefit you... Its a creative world out there!!
---
What's Happenin' - Quick Hits:
BME on Tour:  Hittin' the road lately to sold-out rooms has been BME artists Rick Wakeman (with Yes), Slaughter, Matt King, Joe Wolfe (with Earth Wind & Fire), and Cowboy Mouth.
BME takes a Road Trip:  BME execs Alan Brewer and Mason Cooper just finished music supervision for Viacom's CMT Road Trips, which features songs from BME artists Matt King and Cowboy Mouth, along with Montgomery Gentry, Alan Jackson, Brad Paisley and The Derailers.
BME gets sporty:    From BME songs licensed for the Speed Network's "I Wanna Date a Race Car Driver" to multiple CDs created for the Fox Sports networks and high octane music used by ESPN's Independent Racing League -- it all boils down to this:  Alan Brewer's Yankees vs. Mason Cooper's Red Sox.  Here we go again!!!

Los Angeles: TEL (818) 470-1018 · FAX (818) 337-7435 · infoWest@BMEmusic.com
Nashville: TEL (615) 320-7555 · FAX (615) 320-0007 · info@BMEmusic.com
www.BMEmusic.com

KaDaLaNa Music (ASCAP) · Porpoiseful Publishing Co. (BMI) · Brewhenge Music (SESAC)
© 2004 Brewman Productions, Inc. All Rights Reserved.