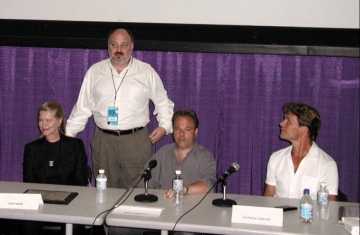 Alan Brewer (standing) introduces a panel during the 2004 Nashville Film Festival.  Speaking about the dynamics between filmmakers and composers are (seated l-r):  director/actor Lisa Niemi, film composer Stacy Widelitz and actor/producer Patrick Swayze.
NASHVILLE FILM FESTIVAL names ALAN BREWER as President of the Board of Directors
BME owner/president Alan Brewer has been named The Nashville Film Festival's president for its upcoming 36th season.  One of the premiere film festivals in the country, the NaFF is the only festival in the U.S. where the winning feature film automatically can qualify for Academy Award consideration.  Brewer will continue efforts to expand the national cachet of the festival, capitalizing on the festival's unique ties to the music industry and utilizing his own history as a film and music producer.

Brewer began producing films for Miramax and Universal Pictures in the mid 1980's, and his music production work ranges from soundtracks for films such as Tokyo Pop, The Burning, and B.C. Rock, to working with acts as diverse as classic rocker Pete Townshend, Japanese supergroup Hound Dog, and the upcoming debut album for the all-girl country band Cowboy Crush on Curb-Asylum Records.

Brewer's recent efforts as a festival board member have included sponsoring a festival keynote appearance featuring film producer Andrew Mason (The Matrix, Scooby Doo), moderating and coordinating "music in film" panels (featuring, among others, Dreamworks' Todd Homme, William Morris' Joel Roman, Disney's Glen Lajeski, and Dan Butler of Warner Bros. Pictures), and sponsorship of the BME Best Music In A Feature Film award (with its debut award presented to Stacy Widelitz, composer for the Lisa Niemi/Patrick Swayze film "One Last Dance").
The dates for this season's festival are tentatively set for April 14 - 21, 2005.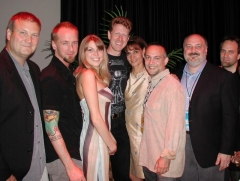 An international assortment of folks converge on the closing night festivities of the 2004
Nashville Film Festival
.  Making sure they get their fill of food and fun (from l-r) are:  BME artist/producer client
Robert Ellis Orrall
, BME artist/songwriter
Matt King
, BME copyright manager
Erika Jacobsen
, Warner Bros. Pictures'
Dan Butler
,
Caroline Butler
, BME VP Mason Cooper, BME President Alan Brewer, Toronto music supervisor
Michael Perlmutter.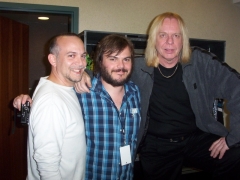 Posing for a pic (l-r) after a recent YES concert:  BME VP Mason Cooper, actor/musician Jack Black, and BME client Rick Wakeman.
Hey, what happens backstage...stays backstage!!!
Rick Wakeman and Mason Cooper say YES to Hollywood...
Mason Cooper, VP West Coast
for BME, focusing on building stronger relationships between BME clients and the film and television communities, recently gave client
Rick Wakeman
his own personal tour of Hollywood. 
Cooper
brought Wakeman (film composer, solo artist and perhaps best known as the keyboard wizard from legendary rock band YES) to meet with studio executives at Warner Bros. Pictures, New Line Pictures, WB Television, Walden Media and Fox Studios – a busy way to spend his days off in the midst of the current YES tour (
Yes tour dates
)!!  Ready to get back to creating music for film and television, Rick recently completed a special music project for Fox Sports, and is currently in discussions regarding TV themes and feature film scores.
Some fun "did you know" tidbits on Rick Wakeman:
Rick Wakeman has composed the scores to over a dozen films
Rick was recently voted one of the top ten television comedian/personalities in the UK
Rick wrote and performed the classic piano arrangement on Cat Stevens' "Morning Has Broken"
Rick's solo in YES' "Roundabout" was lauded as the ultimate rock keyboard solo by Jack Black in the blockbuster film "School of Rock" (read Boston Globe article)
---
Upcoming News items:
Latest Roster Signings, Alan Brewer producing new artist for Curb-Asylum Records, BME completes music supervision for CMT, BME artists on tour, and much more.
BME is a fully integrated Music and Entertainment company, housing a music publishing and production company, music consulting and representation services, worldwide administrative services, and music supervision and coordination for film and television.  Check out our
Roster
, and feel free to
inquire
about any of our clients and music.  Thanks for reading and keeping up on What's Happenin'!!!  Come visit us at
www.BMEmusic.com
.

Los Angeles: TEL (818) 470-1018 · FAX (818) 337-7435 · infoWest@BMEmusic.com
Nashville: TEL (615) 320-7555 · FAX (615) 320-0007 · info@BMEmusic.com
www.BMEmusic.com

KaDaLaNa Music (ASCAP) · Porpoiseful Publishing Co. (BMI) · Brewhenge Music (SESAC)
© 2004 Brewman Productions, Inc. All Rights Reserved.